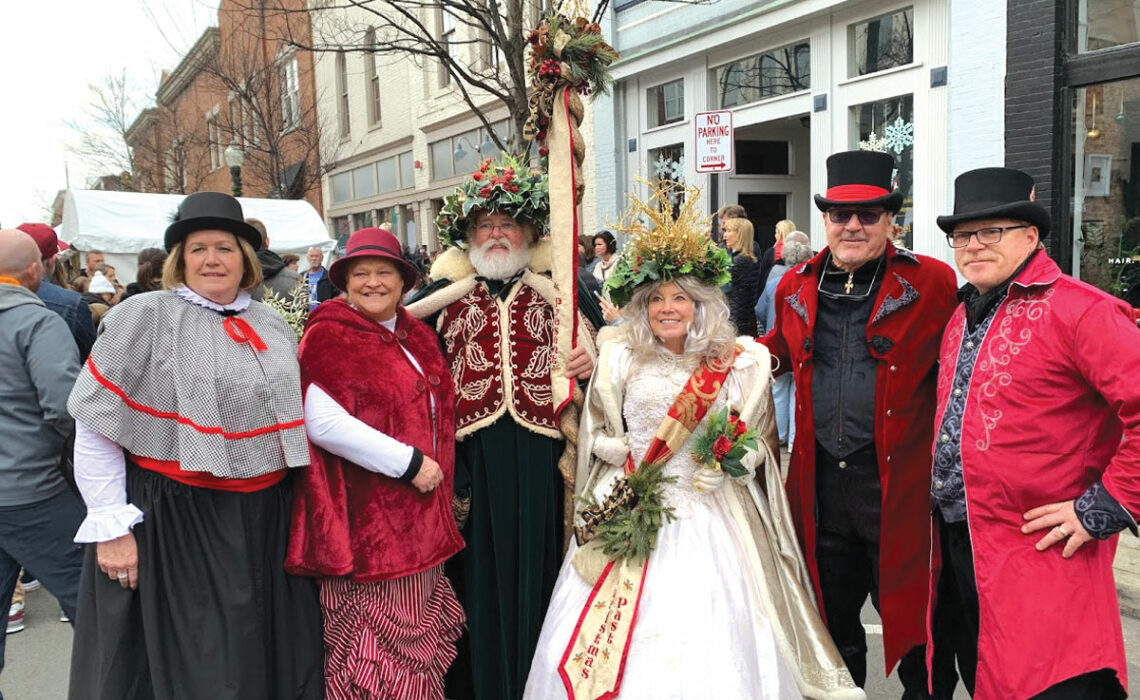 Historic Main Street Llano morphs into Victorian England for A Dickens of a Christmas on Saturday, Dec. 2 — an ode to Charles Dickens' "A Christmas Carol." For those interested in dinner theater and Sunday tea, the holiday celebration begins on Friday night and continues until Sunday afternoon. 
Saturday is a dickens of a day with shopping, carriage rides, games, activities, a bed race, and more. The evening closes out with a lighted Christmas parade around the courthouse. Top it all off with a visit to Badu Park for the city's Starry, Starry Nights lights display along the Llano River (see page 6).
FRIDAY, DEC. 1
A Dickens of a Dinner Theater
6:30 p.m. at Lutie Watkins Methodist Church, 800 Wright St.
Damian Gillen performs "Bah Humbug," his one-man rendition of "A Christmas Carol" by Charles Dickens. Individual tickets are $45; a table for eight is $340. Proceeds benefit the Llano Cowboy Church Women's Ministry. Tickets are available at the Llano Visitor Center, 100 Train Station. Cash or check only.
SATURDAY, DEC. 2
Breakfast with Santa
9-10:30 a.m. at Lutie Watkins Methodist Church, 800 Wright St.
For $5, enjoy a light breakfast and visit with Santa and Mrs. Claus. Bring your camera or phone for photos. Tickets are available at the Llano Visitor Center. Cash or check only.
Christmas Market
9 a.m.-1 p.m. in downtown Llano
Shop for locally produced goods, including fruits, vegetables, eggs, breads, pies, canned goods, preserves, and local honey. Handmade artisans will be selling quilts, pottery, art, jewelry, home decor, and more. No vendor fee!
Free carriage rides, petting zoo, activities
9 a.m.-6 p.m.
Festivities on Main Street Llano and the Llano County Courthouse square include live entertainment, a petting zoo, and a Victorian Era costume contest in five categories: men, women, girls, boys, and best Scrooge. Kids can decorate holiday cookies and have fun with crafts, all for free. Also free are carriage rides around the square and an ice carver demonstrating his skills on holiday-themed ice sculptures.
Musicians and other performers take the stage and mingle with the crowds on street corners. Performers include the Highland Lakes Men's Chorus, Here Comes Treble, Silver Thistle and Drums Corps, and Petticoats and Pearls.
Woman's Culture Club of Llano Holiday Home Tour
Noon to 5 p.m.
Tour beautiful homes and businesses decorated for the holidays. Tickets are $15 each or $28 for two and can be purchased from club members at the clubhouse, 210 W. Sandstone, on the day of the tour. Proceeds benefit the Llano County Scholarship Fund and other club projects.
A Dickens of a Grand Prix Bed Race
2:30 p.m.
Find fast and furious fun in the Berry Street parking lot of First Baptist Church of Llano, which is located at 107 W. Luce St. The only charge is for those who sign up to run the races. Three-person teams will compete in decorated beds on wheels.
Llano Lighted Christmas Parade
6-7 p.m.
Entries line up at 1110 Berry St., travel along Ford Street to West Main Street at the courthouse, and then head back to Berry Street and staging. Viewing is anywhere along that three-block area near Llano National Bank, FBC Cadence Bank, and the courthouse.
SUNDAY, DEC. 3
A Dickens of a Victorian Tea
3 p.m. in the Llano ISD Community Room, 1400 Oatman St.
Enjoy a full English tea service and musical entertainment by the Heart of Texas Orchestra. Tickets are $30 for ages 13 and older and $15 for ages 12 and younger and available at the Llano County Museum, 310 Bessemer Ave.