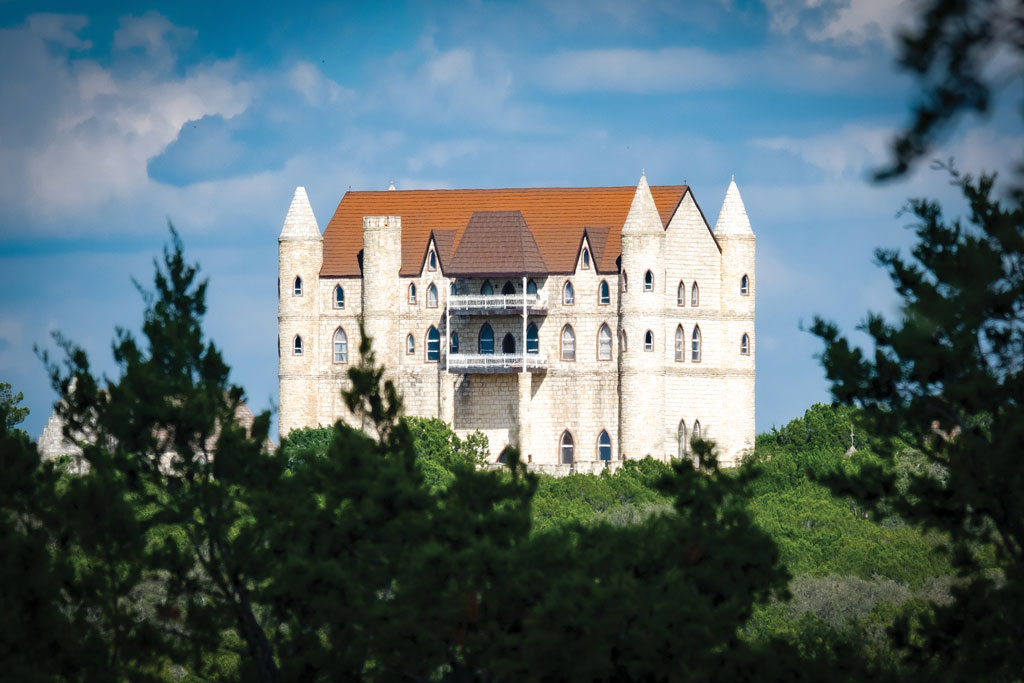 Most of us have a bucket list, a personal inventory of experiences and destinations. So what if you limited it to the Highland Lakes? Well, you would still end up with a long list. Here's a start.
1. Hike Enchanted Rock
Enchanted Rock State Natural Area
16710 Ranch Road 965 in Fredericksburg
Climb 425 feet to the summit of this iconic granite dome. After you catch your breath — it's a fairly steep ascent — take in panoramic Texas Hill Country views, spot wildlife, and study the batholith's distinctive geological features.
2. Get married in a castle
290 Wine Castle at Chateau de Chasse
101 Durango in Johnson City
Castle Falkenstein
7400 Park Road 4 South in Burnet
Plan a royal-style wedding at one of two Highland Lakes castles. The 290 Wine Castle at Chateau de Chasse in Johnson City features a vineyard and winery and an expansive patio with breathtaking scenery. Or, say your vows at the 14,000-square-foot Bavarian-inspired Castle Falkenstein near Burnet. Stay more than a day: Falkenstein can accommodate up to 12 overnight guests. (Check out the 101 Wedding Guide for other ideas.)
3. Host a floating party
Rent a pontoon boat, invite family or friends, pack food and drinks, and spend a few hours cruising one of the Highland Lakes. You can host a small party of eight to 12 passengers. Some boats even have an upper-deck slide for quick water access. Expect to pay for a two- to three-hour minimum. Below are a few Highland Lakes businesses that rent pontoons:
4. Stay where Bonnie and Clyde once slept
Dabbs Hotel
112 E. Burnet St. in Llano
Dabbs Hotel in Llano has hosted hundreds of guests since 1907, but none so famous or infamous as bank-robbing twosome Bonnie Parker and Clyde Barrow. Their reasons for coming to Llano appear lost to history (no bank heists). Relive that era of Texas' history by booking the Bonnie & Clyde Hideout Room. (You might see some guests who never left.)
5. Book a luxury hunting trip
Mad Bucks Trophy Deer Ranch
5551 FM 2340 in Burnet
Sandstone Mountain Ranch
4825 Texas 71 East in Llano
Go on a guided hunt for native deer or exotic wildlife and luxuriate in plush resort accommodations at Mad Bucks Trophy Deer Ranch. Non-hunters can play tennis, cool off in the pool, or relax in the hot tub.
At Sandstone Mountain Ranch, you'll feel like you're on a safari in a distant land. Wild game includes zebra, wildebeest, eland, and much more. The ranch also is home to two giraffes — not for hunting.
6. Visit the Texas Oval Office
Lyndon B. Johnson National Historic Park
100 E. Ladybird Lane in Johnson City
View a mockup of President Lyndon B. Johnson's modestly appointed Texas office, where he conducted business whenever he was home in the Texas Hill Country. The National Park Service re-created this presidential space with original furnishings at the LBJ National Historic Park's Johnson City visitor center while the Texas White House at LBJ Ranch undergoes major renovation. (Walk in the footsteps of President LBJ.)
7. Watch for rare birds
Balcones Canyonlands National Wildlife Refuge
24518 RR 1431 East in Marble Falls
Catch a glimpse of the once-endangered black-capped vireo or golden-cheeked warbler, which both call the area home during their nesting seasons. There's plenty of other wildlife to see as well hiking trails and Hill Country vistas in the refuge, which has free entrance. The refuge has two main trail systems: Doeskin Ranch and Warbler Vista.
8. Ride Texas' only chairlift
Spider Mountain Bike Park
200 Greenwood Hills Trail in Burnet
Don't pack your skis. The lift at Spider Mountain is for mountain bikes. It carries you 350 feet up the hill, from which you can take nine different biking trails. You can also hike down. (Read more about Spider Mountain Bike Park.)
9. Reel in a striped bass on Lake Buchanan
Empty Pockets Fishing Guide Service
109 S. Chaparral in Burnet
Stripers grow big in Lake Buchanan (27.8 pounds is the record), and these fierce fighters relish a challenge from anglers. Bring your own boat or book an excursion with Empty Pockets. They'll find the fish, furnish tackle, and clean your catch. (See what else is swimming in the lakes.)
10. Enjoy dinner with a view on Lake LBJ
Bay View Restaurant & Bar
4401 Cottonwood Drive in Cottonwood Shores
After a full day of checking off your Highland Lakes bucket list, toast the sunset with dinner and drinks on the spacious patio at Bay View. (Check out other places to Eat and Drink in the Highland Lakes.)
What's on YOUR Highland Lakes bucket list? Leave a comment below.
chuck@thepicayune.com