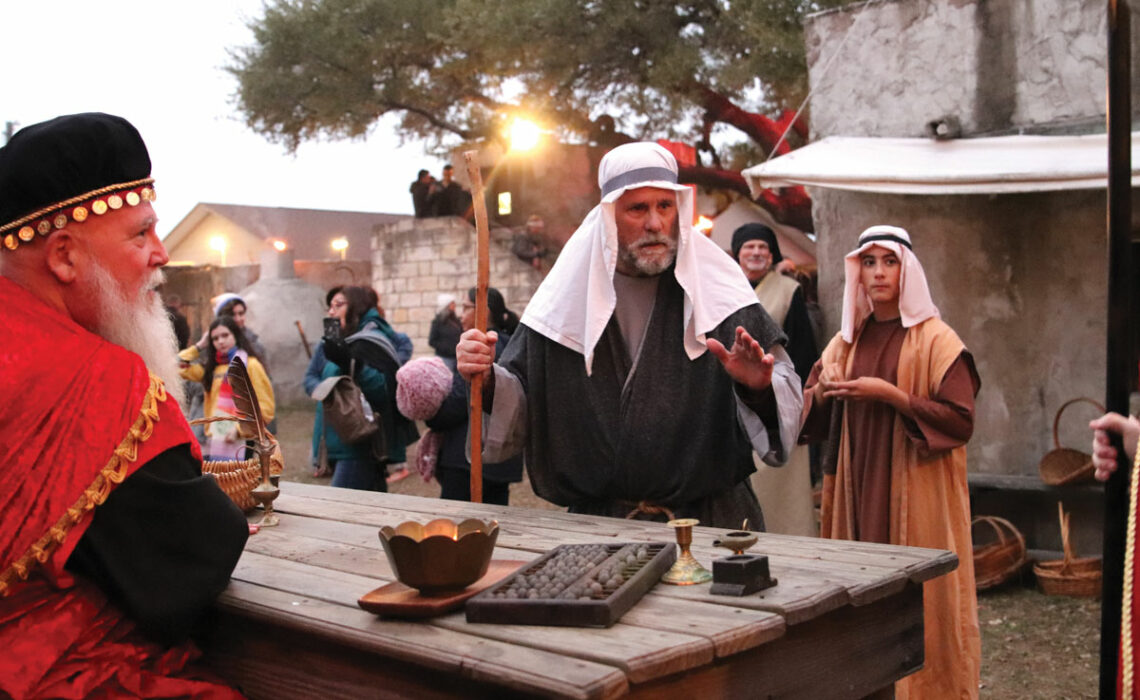 The streets of Bethlehem come to life within a re-created town square built by First Baptist Church of Burnet as a gift to the community. Main Street Bethlehem takes place from 6-9 p.m. Dec. 1-3 and Dec. 8-10, 2023, at 300 E. Washington St., between the Burnet County Courthouse square and the church. 
You'll experience the sights, sounds, and scents of the ancient city as soon as you walk through the gates. Dozens of re-enactors whisper to each other about the newborn king of Israel while Roman soldiers stand guard over tax collectors and a blacksmith works his forge. People huddle in tents at the gate, cooking over fires, as they await the census counters.
Real camels, donkeys, and sheep chomp hay in their pens. Woodworkers, basket weavers, candlemakers, potters, and more hawk their wares along the streets. Families gathered at dinner tables and working in kitchens can be seen through the windows of their homes. You can even visit an inn to be turned away because there's no room or spend time in a jail for not paying your taxes.
After the hustle and bustle of Bethlehem, follow a bright, shining star to a simple stable nestled in a shallow cave. There, you will see what all the talk is about. A young couple coos over their newborn son as shepherds kneel in prayer.
Admission to Main Street Bethlehem is free. Guests do not need tickets or reservations. Just queue up along the courthouse square. The line moves quickly, according to organizers, especially now that the church is no longer serving hot chocolate and cookies at the end.