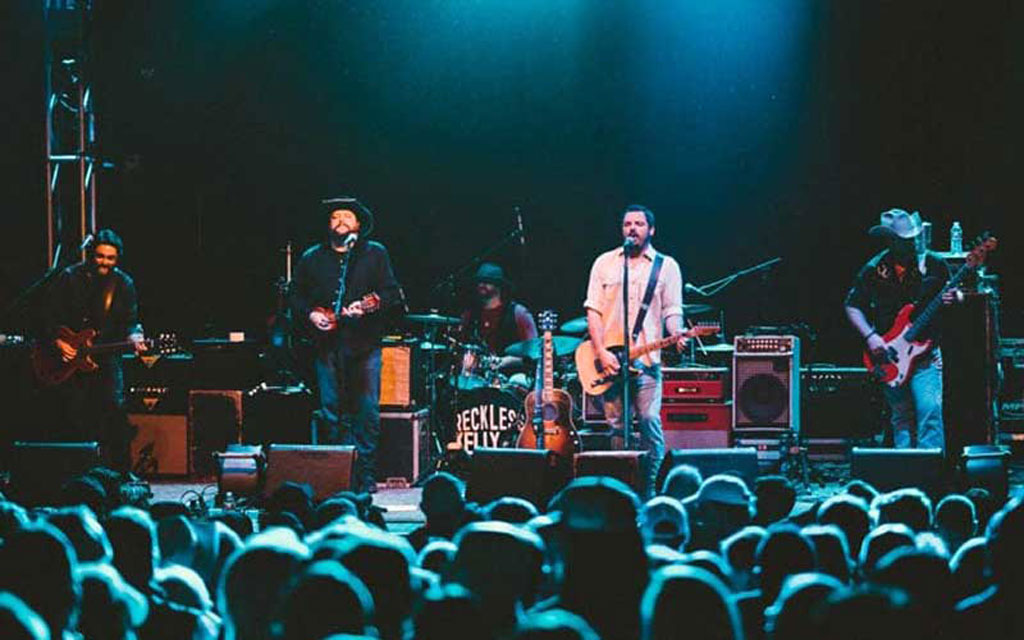 The Spicewood Live! 2023-24 concert season sounds off starting Oct. 6 with an exciting and multi-genre lineup, according to organizer Spicewood Arts. Performances begin with Austin folk-rock group Bluewater Highway and end with jazz virtuoso Curtis Calderon.
The complete season includes country, rock, jazz, and funk artists with a special spring performance by Reckless Kelly.
All together, audiences will enjoy six concerts and a donor gala. Purchase season tickets and single-show admission at spicewoodarts.org.
The performances take place at the Spicewood Vineyards Event Center, 1419 CR 409, Spicewood, except for the Reckless Kelly show, which is at Iron Wolf Distillery, 101 CR 409. Alcohol, food, and water will be available for purchase.
The schedule includes:
OCT. 6, 2023
[image id="35836" align="aligncenter" width="100%" ]
Named for the highway that runs from the Brazos River to Galveston by way of their hometown, this quartet of childhood friends mixes traditional folk sounds with modern rock 'n' roll vibes. Their albums showcase reflective songwriting and inventive arrangements. Bluewater Highway's novelty and creativity continue to capture the hearts and minds of audiences with stellar live performances.
NOV. 10, 2023
[image id="35837" align="aligncenter" width="100%" ]
With the voice of a child coming from an old soul, Kimmie Rhodes' more than three-decade career has seen her perform and record alongside famous artists such as Willie Nelson, Wynonna Judd, Peter Frampton, and Emmylou Harris. Her progressive country songs with Texas roots have been included in motion pictures and TV series, and she has also made her mark in the creative arts as an author, playwright, and storyteller. Her multiple talents all come together for a show that will touch your senses.
DEC. 1, 2023
[image id="35838" align="aligncenter" width="100%" ]
Classical meets pop rock electricity during a special holiday performance by the Dallas String Quartet. Their sound is so captivating, it has been requested at private concerts for Presidents Bush and Obama and accompanied major names such as Josh Groban, Chicago, and the Trans-Siberian Orchestra.
FEB. 10, 2024
In addition to dinner and prizes, the donors at the annual Spicewood Arts gala will enjoy dancing to a high-energy funk performance by Dysfunkshun Junkshun. An acoustic show will accompany the meal before the band brings their blend of Motown, R&B, hip-hop, and classic rock to the dance floor. The gala supports young local artists in achieving their dreams through college scholarships.
MARCH 15, 2024
[image id="35839" align="aligncenter" width="100%" ]
Austin-based blues rocker Ian Moore's guitar-playing prowess and mixture of soul, gospel and Beatle-inspired pop songs propelled him to local fame. His technical guitar expertise and unique blend of sounds also allowed him to tour alongside Joe Ely, ZZ Top, and the Rolling Stones. Known for his stellar live performances, his electric blues atmosphere will delight.
APRIL 6, 2024
Spicewood Arts partners with Iron Wolf Distillery for a spring outdoor show that will be part of Reckless Kelly's farewell tour. The epitome of Americana music, the band will once again rock audiences with their Grammy Award-winning sound that combines roots, country, and rock influences.
MAY 3, 2024
[image id="35840" align="aligncenter" width="100%" ]
San Antonio native Curtis Calderon has mesmerized audiences across the country with his technical skill on trumpet and soulful jazz vocals. Touring since he graduated high school, Calderon's decades of experience with big band sounds continue to delight audiences across Texas.
Spicewood Arts' mission is to offer cultural experiences to the Highland Lakes through the visual, performing, and literary arts. It provides community outreach with educational programs at local schools and field trips as well as scholarships for local student-artists. You can donate to its cause online.