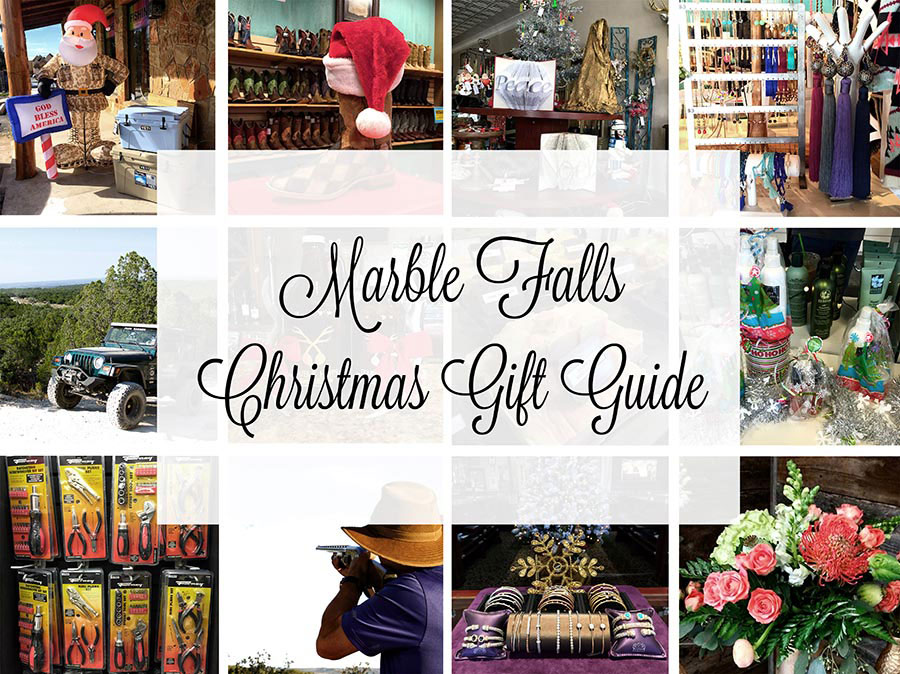 [image id="19166" title="Marble Falls Christmas Gift Guide" align="aligncenter" width="100%" ]
Do you have holiday spirit, or are you suffering from anxiety as you try to figure out what gifts to give to your family, friends, co-workers and everyone else on your shopping list?
No worries! We have it all covered with this handy Marble Falls Christmas gift guide. Plus, you can do all of your holiday shopping locally.
[image id="17420" title="For Her text" align="aligncenter" width="40%" ]
[image id="19168" title="Marble Falls Christmas Gift Guide" align="aligncenter" width="95%" ]

Get a book that really says something
Generations in Marble Falls sells fun hand-folded books by local artist Rachael Landers. The pages are folded to display any word, name, date or image in a range of fonts and colors. Pre-made books in the store range from $68-$84. For a flat rate of $100, you can have one custom made to say whatever your heart desires. Visit the store at 204 Main St. to check out the books or to pick up an order form or call (830) 798-2333.
Send statement jewelry to your favorite fashionista
If you're gifting for a girl who is always dressed in the latest fashions, Eve Couture is a one-stop shop. The store sells "fast fashion," including jewelry such as rings, necklaces, bracelets and more, for very reasonable prices — starting at $3. Visit the shop at 206 Main St.
Indulge the sweet tooth with decadent fudge
It's All Goode sells more than 30 different types of homemade fudge. Pick up a fourth, half or full pound of fudge. And if you buy one pound, you get one-fourth for free! Ask about gift-wrapping options as well. Buy some treats at 208 Main St.
Give the gift of great hair
Twist Hair Salon sells an assortment of $15 gift bags with hair shampoos, conditioners, serums, sprays — anything you need for the perfect 'do. Find Twist at 809 12th St.
Stack up bracelets for some serious arm candy
A bracelet makes the perfect gift, and Salem's Jewelry has you covered. Prices range from $150 to $6,000, depending on your taste and budget. Select from esteemed brands such as Charles Garnier, Simon G and Alwand Vahan. Salem's does free gift wrapping on any purchase. Be sure to check out the special pricing in its Christmas catalog, available in the store at 518 U.S. 281.
Arrange a special bouquet for that special someone
Flowers are a heartfelt gift for the holidays — especially an arrangement flaunting the classic Christmas colors of red and green. Pick up a bouquet of flowers from Lizzie's at 102 E. Polk St. (Texas 29) in Burnet.
[image id="17421" title="For Him guide text" align="aligncenter" width="40%" ]
[image id="19167" title="Marble Falls Christmas Gift Guide" align="aligncenter" width="95%" ]
Keep his drinks cool with a YETI Cooler
Rods, Barrels & Strings, the locals' favorite hunting and fishing outfitter, sells a variety of items for any outdoorsman. Consider a premium YETI Cooler, starting at $299. The shop is located at 1008 U.S. 281, Suite 103.
Your favorite cowboy deserves a new pair of boots
Blair's Western Wear has the best selection of boots in the area, and they start at $200. The store has specials running through Christmas, so be sure to stop by today. Blair's is located at 2501 U.S. 281.
Go for a spin … off road
Hidden Falls Adventure Park, a 3,000-acre park in the heart of the Hill Country, hosts off-road excursions for dirt bikes, four-wheelers, Jeeps and more. It's fun for everyone — from novice daredevils just getting their start to avid adventurers. The park offers a large variety of memberships at every price point. Find it at 7030 RR 1431 East.
Drink and be merry with Double Horn Brewing Co.
Beer enthusiasts, delight! Pick up a 64- or 32-ounce growler from Double Horn Brewing Co. While you're at it, pick up a 2016 Mug Club membership, good for year-long benefits, for only $50. Visit the brewery and enjoy a cold one at 208 Ave. H.
Fill up his toolbox
If you're gifting for a man who enjoys working around the house, then head to Ford & Crew Home and Hardware and help him stock his toolbox. The store has a Christmas special on its toolkits for only $8.99 a pop. Visit the store at 1400 Ninth St.
Send him to the shooting range
We're in Texas, after all. Copperhead Creek Shooting Club offers hourly, daily, monthly and yearly passes — the perfect gift for a seasoned shooter. The facility is located in Hidden Falls Adventure Park, 7030 RR 1431 East.