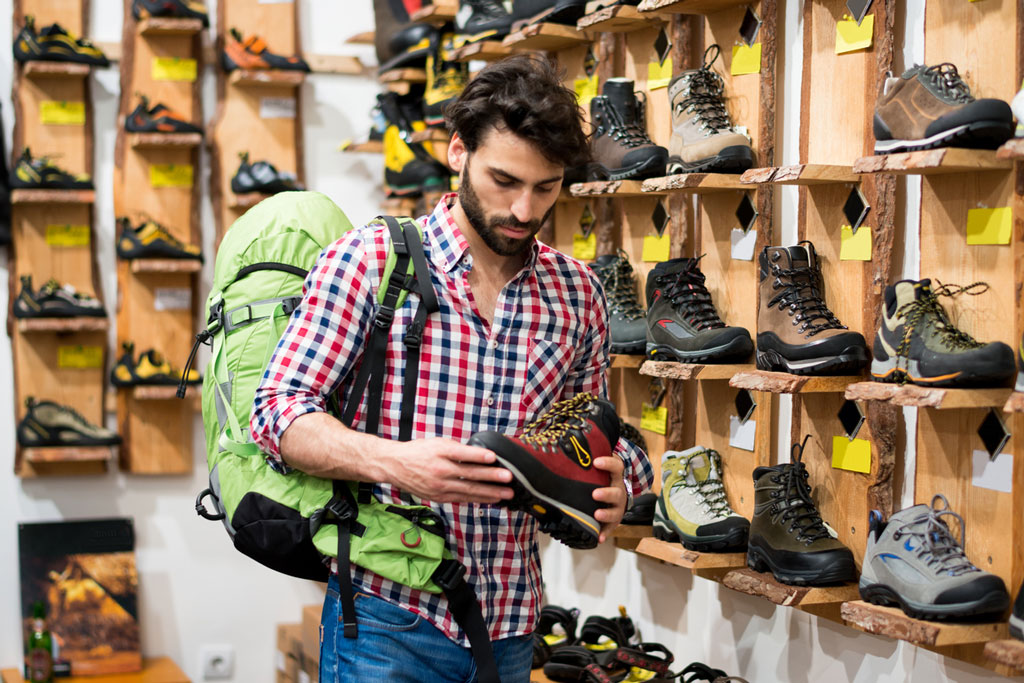 The Highland Lakes area is surrounded by rugged hills waiting to be explored. Whether you plan on hiking, running, or biking through the rough terrain, you're going to need the right gear to get the job done.
Reveille Peak Ranch is a perfect representative of outdoor opportunities in the Highland Lakes. The ranch boasts nearly 60 miles of hikeable, runnable, and rideable trails that range from gradual slopes to steep climbs and jagged descents.
"We're centrally located. It's an easy place to get to," said Andrea Montgomery Roach, the ranch's operations coordinator. "There's a variety of terrain to experience, wildlife, and wildflowers."
Roach drew upon her vast knowledge of hiking, trail running, and mountain biking to lay out the essential gear for a successful outing in the Highland Lakes.
[image id="35017" title="Inks Lake State Park trail" linkto="file" ] A typical vista on a Highland Lakes hike. It's beautiful, rugged country. Tough shoes and sun protection are key to having an enjoyable hike. Staff photo by Dakota Morrissiey
Let's work our way from the ground up. The terrain of the Hill Country is scenic, but it is also tough. Jagged granite, crumbling limestone, and an assortment of stabbing vegetation make hiking slightly hazardous. According to Roach, correct footwear should be at the top of your gear list.
She recommends tying on tougher hiking boots that support the ankles and have thick enough soles to keep out stabbing thorns. And make sure the boots have decent treading that can grip the inevitable hunks of stone you'll have to climb over on a typical hike in these parts.
If you are really going off the beaten path and plan on doing so regularly, consider investing in snake boots. Western diamondback rattlesnakes are common across the Highland Lakes and the Texas Hill Country, and stepping off the trail increases your odds of stepping on a rattler.
The heat can drive you crazy, so shorts are a tempting option, but if you're taking a rough trail, stick to long pants. They'll protect you from scrapes, stabs, and splinters while you scramble over rocks and through the brush. And it might seem counterintuitive at first, but Roach also recommends a long-sleeved shirt, specifically a fishing shirt, if hiking in the late spring through early fall. The sun can be brutal and fishing shirts are usually designed to keep you cool and block harmful ultraviolet rays.
Headwise, grab a pair of sunglasses or a brimmed hat to protect your eyes and face from the sun. A good hat will shade your eyes, protect your ears, and trap a little sweat to keep your head cool in the summer.
If it isn't already evident, the heat can be a major player on a Highland Lakes hike. If you plan to set off during the day, make sure you bring plenty of water. A few water bottles should be enough to get you through a decent hike, but for treks lasting more than half a day, Roach recommends a hydration bladder, such as a CamelBak, which can hold at least a gallon of water.
BONUS: Hiking sticks are useful, especially if you have a long way to go. Steep inclines, like on Enchanted Rock, can be difficult for even advanced hikers. Hiking sticks will give your back a break and can be the push you need to extend your hike or reach your summit.
TRAIL RUNNING
Plenty of running trails cut through the Highland Lakes, including at Reveille Peak Ranch. And, once again, the right shoes are important.
Roach recommends investing in decent trail runners if you plan to run regularly. A good trail running shoe is light and tough and has a rugged sole to provide traction. Unlike a hiking boot, these are going to have miles put on them in a shorter duration, and they will get beat up by the up and down of running, so be prepared to burn through shoes if you trail run frequently. A normal sneaker will fall to pieces and be full of holes in no time if taken on a Hill Country trail.
On longer trail runs, it will be necessary to carry your own water, so a bottle holster or a hydration bladder are even more vital than on a typical hike.
It isn't necessarily a gear requirement, but Roach cautions runners to know their route before setting out. In the dead of summer, getting lost can be disastrous, especially when temperatures are in the triple digits.
[image id="35018" title="Spider Mountain Bike Park" linkto="file" ] Mountain bikers flock to the outdoor adventure meccas of the Highland Lakes, including Reveille Peak Ranch and Spider Mountain Bike Park (pictured) with its chairlift to the top. This is an exciting hobby for which your gear isn't just useful, it is essential. Staff photo by Dakota Morrissiey
The Highland Lakes has some awesome mountain biking opportunities at Spider Mountain and Reveille Peak Ranch. While this is a glorious pastime, it is also an extreme sport that will inevitably leave you banged up. Wrecking on a Hill Country trail leaves you with a 100 percent chance of running into something sharp.
"Any kind of fall out there, and you're coming into contact with a rock," Roach said.
If you're new to mountain biking, it might sound obvious, but you're definitely going to need an actual mountain bike. A normal bicycle doesn't have the suspension or clearance to handle the jumps, dips, and rubble on a typical mountain biking trail. A new bike can be expensive, but Reveille Peak Ranch rents bikes through Specialized Bikes, which has a demo shop on site. Spider Mountain also has bike rentals, and you can even do some hiking while you're there.
You're going to need a helmet while you're bombing down trails, no matter how you might think it looks. Head injuries are inevitable when you're flying down hill, shredding through gravel, and launching off dirt ramps. You're going to be glad you have some protection when the time comes.
Roach mentioned that some riders will dawn more protective gear, like shin and elbow guards. These parts of your body usually take the most punishment in a wreck or a ride through rough country.
On longer rides, the same rules apply to mountain biking as they do with trail running and hiking. Make sure you're protected from the sun and have plenty of water.
BONUS: Wear gloves to keep your hands callous free and your knuckles from getting scraped. Even if you don't wreck, it is common for branches to slap your knuckles and calluses to develop on palms with regular outings.
Now get out there, get geared up, and conquer the trails of the Highland Lakes.
dakota@thepicayune.com