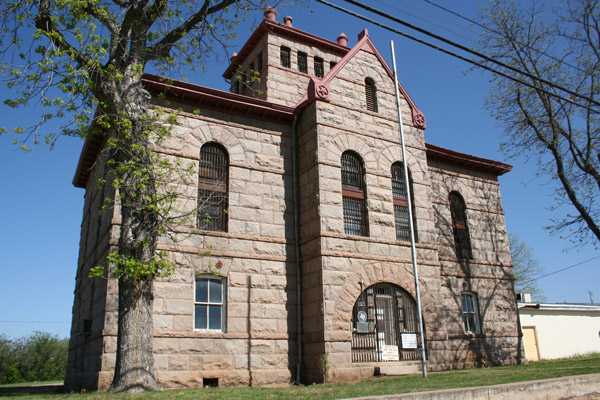 Llano's historic Red Top Jail has an intriguing history that includes a fair share of ghost stories. Built in 1895, the jail has undergone extensive renovations with help from the Friends of the Llano Red Top Jail, an organization of volunteers committed to restoring the facility.
At the time the jail was built, Llano was booming thanks to the large number of minerals found in the area. County officials believed they needed a better jail, so the Red Top Jail entered the scene.
The jail's original price tag was $11,500. Constructed with local granite, it features a Romanesque revival architecture style with red tile roofing — hence the name. Its architecture makes it one of the most intriguing buildings in the Highland Lakes.
During the jail's early days, the first floor served as the home for a jailer/deputy and his family. It featured eight cells on the second floor to accommodate four prisoners each. The third floor — referred to in the past as the "dungeons" — had more cells. The fourth level, however, housed the gallows.
There's no record of anyone actually being hanged in the jail's gallows, but, according to local lore, plenty of captives met their maker at the end of a Llano County rope. Over the years, jailers, inmates, and even ghost hunters have spread tales of terror seen and felt in the old jailhouse.
Workers report experiencing cell doors slamming shut on their own, marbles thrown from nowhere, and mysterious noises.
"The workers were knocking down plaster walls, so dust was being blown up everywhere," said Kim Webb, a volunteer with the Friends group. "They heard coughing up in the gallows. They went up, and nobody was there. The workers started playing the radio real loud to drown out the noises, but a few walked off the job. Full-grown men!"
The jail was in use until 1982, finally ending its incarceration duties after 87 years. Though it has been restored, graffiti left by former inmates dating to 1918 remains.
Read more ghost stories about the Red Top Jail, including a paranormal experience by ghost hunters, in our Haunted Highland Lakes series.
To set up a tour of the historic jail, call the Llano Visitor Center at (325) 247-5354. Tours are currently free of charge, though donations are greatly appreciated.
The Red Top Jail is located at 400 Oatman St. in Llano, just south of East Haynie Street and one block east of Texas 16 in Llano. Visit redtopjail.com for more information.