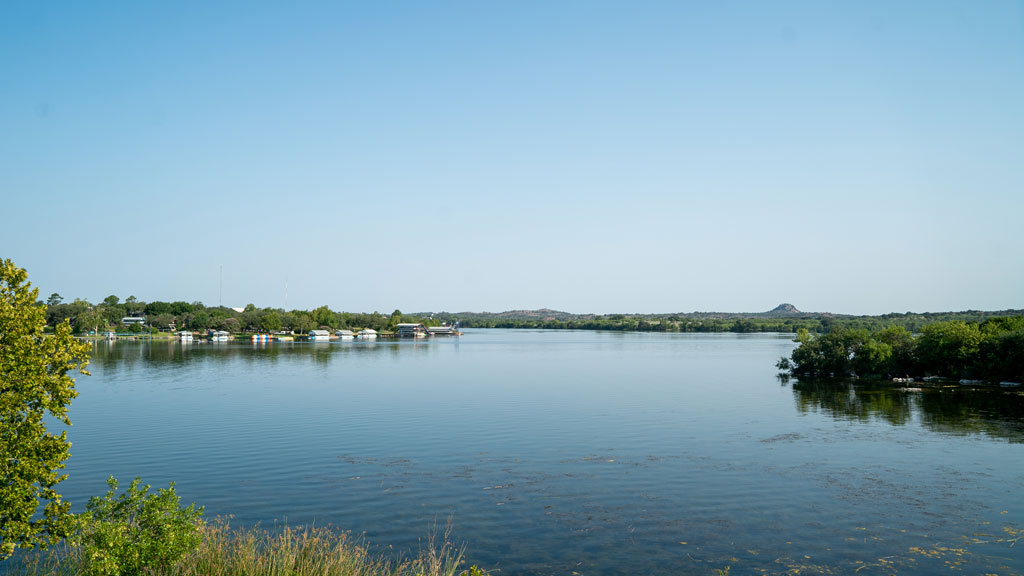 Inks Lake is tucked away between two historic Highland Lakes dams and among thick forests, towering granite formations, and more scenic overlooks than you can shake a hiking stick at. With unrivaled natural beauty and outdoor opportunities, it might be the best way to get in touch with the Texas Hill Country.
Here are five reasons to stay — and play — on Inks Lake.
Inks Lake State Park
The Highland Lakes are within the Texas Hill Country, known for rugged natural beauty, but there aren't many public spaces to actually appreciate that beauty firsthand. Inks Lake State Park happens to be one of the best access points to the outdoors in the area.
The park lies along the southeastern shoreline of Inks Lake, shaded by old-growth forest and punctuated with patches of lichen-covered granite. Pop a tent, bring your RV, or rent a cabin and camp in the park by the lake. Rent a kayak or canoe and explore hidden coves or hoof it along the 9 miles of developed hiking trails throughout the park.
[image id="34944" title="Devil's Waterhole at Inks Lake State Park" linkto="file" ] Take the plunge into Devil's Waterhole at Inks Lake State Park. Staff photo by Dakota Morrissiey
The crown jewel of the lake is Devil's Waterhole, a legendary swimming hole in the Highland Lakes that offers high jumps and deep water. Dozens of native plants and animals thrive within the boundaries of the park, and every season offers a new perspective on the unique wildlife of Central Texas.
Stop and stay at Inks Lake State Park if you feel the call of the wild.
Far, but not too far
Inks Lake achieves the perfect balance of distant relaxation and close-by convenience. The lakeshore is surrounded by nature, small communities, and parkland. Once you leave the highway, roads wind their way through the country with the lake and hills as ever-present backdrops.
A stay on Inks Lake means taking a few steps off of the beaten path. While the lake is removed from immediate towns or cities, a few miles on the highway can put you in a number of Highland Lakes hubs. In less than 30 minutes, you can be having a drink in Marble Falls, grabbing dinner in Burnet, or lounging in Llano. Whether you're camping at Inks Lake State Park or renting a lakeside cabin, you're sure to get a dose of town and country.
Drop a line
Lakes and fishing go hand in hand, and Inks Lake is no exception. The unique granite structures and overhangs of the lake create a prime environment for all sorts of native Texas fish that are just waiting to be caught.
The Texas Parks and Wildlife Department routinely stocks the lake, creating healthy populations of largemouth bass, white bass, crappie, and catfish. Brushpiles and gravel beds are strategically placed throughout the lake to make even more viable fish habitat.
If you're fishing from the shore inside Inks Lake State Park, no fishing license is required, but make sure you have a Texas Fishing License if you decide to cast a line outside of the park.
Look to the hills
Inks Lake is surrounded by hills, which hold their own wonders. Longhorn Cavern State Park is less than 10 minutes from Inks Lake and offers a real adventure. Descend into the depths of the cavern and take a walking tour to learn the history of the caves or be bold and take the Wild Cave Tour into tight, winding tunnels and dark grottos.
High atop a Hill Country peak lies Falkenstein Castle, a dramatic recreation of a 19th century Bavarian castle that you have to see to believe.
Wineries and vineyards have taken root in the Hill Country, and two of the best are pretty darn close to Inks Lake. Torr Na Lochs Vineyard and Perissos Vineyard are both less than 10 minutes away from the lakeshore.
Whether you're seeking the gritty adventure of a cave dive, the fantastic splendor of a bonafide castle, or the luxurious sampling of local wines, it's all within a stone's skip of Inks Lake.
Highland Lakes heart
The Highland Lakes are a dream destination for many Texans because of the majestic scenery, outdoor access, endless fun, small-town charm, wild history, and, of course, the lakes themselves. The Colorado River has been drawing people to this part of the world for thousands of years, and it continues to do so today.
Inks Lake was created in 1938 with the completion of Roy Inks Dam. The water in Inks Lake gives life to the surrounding communities and creates endless opportunities for locals and visitors alike to experience Hill Country living at its finest. The granite and grandeur surrounding Inks Lake along with the cool waters and quiet strength of the Colorado River create the ideal Highland Lakes getaway.
dakota@thepicayune.com