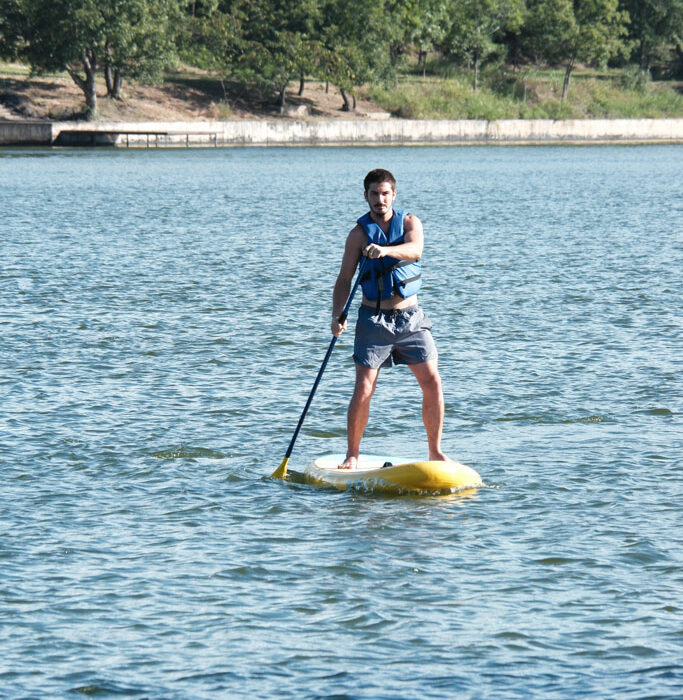 The first time I stood on Lake Marble Falls, I realized paddleboarding might be the best way to experience the natural beauty of the Highland Lakes.
Lake Marble Falls is a small stretch of the Colorado River nestled between Wirtz Dam in the west and Max Starcke Dam in the east.
"This lake, in my opinion, is a hidden gem in the Highland Lakes area," said Rick Blackington, owner of Just Yakin' Kayak Rentals.
Blackington and this story assignment were my gateway to standup paddleboarding. When we met at a public boat ramp near Johnson Park in Marble Falls, Blackington assured me that I would have no problem getting the hang of the board.
I had never been on one, and I fully expected to end up in the water a dozen times before the standup part happened. I was pleasantly surprised to find that the board was much more stable than I imagined. I was able to take to the lake in no time.
After gaining some confidence on the board, it was clear to me that this was definitely a unique and amazing way to experience the water. I went from water to board with minimal effort, slowed down when I wanted, and just took in the unusual perspective of gliding across the water on my feet.
In my conversations with Blackington, he said something that I thought hit it right on the head.
"I believe people can get more in touch with nature at a slower pace," he said. "It's like you're taking a walk down a trail instead of jogging the trail. By boat, you may race past the scenery, and by kayak, you can't quite hop in and out of the water or totally stretch out, but a paddleboard seems to be the perfect vehicle to take a relaxing cruise around the lake, go for a swim, spend some time in nature, or just float without a care in the world."
Accessibility is a major virtue of paddleboarding. People of all ages, body types, and skill levels can get on a board for the first time and do just fine, Blackington said.
As for me, I was able to hop on and stand right up, although I also learned that standing isn't necessary to having a good time. You can lie back and paddle by hand, sit down and paddle like a kayak, or just float and let the current take you. I was brazen enough to attempt a handstand on the board but ended up head over heels in Lake Marble Falls.
When it comes to safety, Blackington shared a few insights. Wearing a lifejacket is important, and by state law, you must have one on if you are on a paddleboard. You must also wear a board leash so you don't get separated from your board.
It's best to go with a partner, so you have someone to lend a helping hand. Be mindful of high boat traffic or personal watercraft and make sure you are visible to everyone else on the water.
Overall, paddleboarding was an extraordinary experience, and although I especially liked Lake Marble Falls, I'm now ready to test out my new skills on the Llano River, Lake LBJ, and the rest of the Highland Lakes. Blackington makes that easy, too.
Just Yakin' rents standup paddleboards and single and tandem kayaks either hourly on Lake Marble Falls or by the day on lakes Marble Falls, LBJ, and Inks and parts of Lake Travis and Lake Buchanan. Reserve the equipment and set up delivery either by calling 325-668-2536 or visiting justyakin.com.
Rental fees include a delivery fee, which is the same whether you ask for one or 10 boards or kayaks. Just Yakin' is open weekends only until Memorial Day weekend when the summer season officially begins. Deliveries on the five lakes and hourly rentals on Lake Marble Falls will be available seven days a week until about mid-August when it goes back to weekends only, Blackington said.
3 TIPS FOR PADDLEBOARD BEGINNERS
Writer Dakota Morrissiey hopped on a paddleboard for the first time on an assignment for 101 Fun Things to do in the Highland Lakes magazine. Here are a few tips for beginners he wanted to share.
Start off with a large board. The smaller the board, the more maneuverability you'll have, but it's much more difficult when it comes to balance. "A larger board is like standing on the ground," he said.
Your starter location should be on water with low boat traffic, which means less wake and more stability on the board while you are getting used to it.
Go easy on yourself! "Everybody's different," he said. "If you fall, it's easy to get back on. I was really surprised by that. The accessibility is the coolest part."
RESOURCES