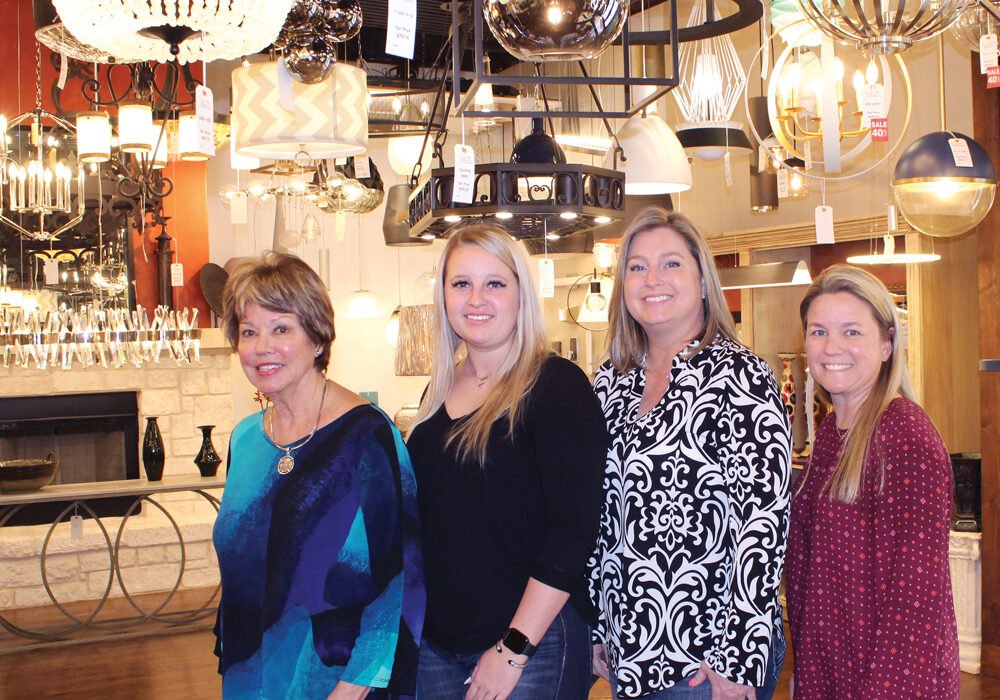 Lighting to suit the mood and uses of home spaces is an art. Gay Idom, the licensed lighting designer for Broadway Showroom, 914 RR 1431 in Marble Falls, goes beyond looks to consider comfort and safety.
"You can't see anything in the house if the lighting isn't done correctly," Idom said. "You can't enjoy anything."
Idom shared room-by-room lighting tips with 101HighlandLakes.com.
LIVING ROOM
[image id="33648" title="Living room lighting" linkto="file" ] Living room lighting needs to take into account screen glare on devices.
Selecting the correct lighting involves knowing the placement of furniture and what the homeowner plans to do while sitting there. Living or family rooms need lighting for multiple activities: entertaining, watching TV, reading, and, more recently, operating handheld devices.
People now flop down on the sofa or lounge chair and grab their phones or tablets to browse social media, shop online, play games, or even make face-to-face calls. Choosing lights that enhance those activities is a must, Idom said. A lighting plan for this room has to create a comforting atmosphere while still providing enough light to see and reducing screen glare, no matter where someone is sitting.
THE FOYER
The entrance into a home sets the stage for the rest of the house.
"Foyers have a commanding presence," said Idom, adding that she considers the height of doors and ceilings when considering placement of either hanging lights or pendants.
"How tall is the door?" she asks. "You don't want that light to drop. People don't want to bump their heads."
KITCHENS
[image id="33649" title="Kitchen lighting" linkto="file" ] Lights under kitchen cabinets brighten countertops.
Without question, the best-lit room should be the kitchen, the hub of activity in a home. Idom starts with the shape and size of the tables in breakfast nooks and dining rooms.
"That makes a big difference," she said. "Also, the taller the ceilings, the bigger the chandelier. It's always important to size it to the table."
A newer trend is to place lights under cabinets to brighten countertops.
The pantry is another trouble spot designers pinpoint for extra lighting.
"Usually, they'll have a little fixture," Idom said with a shake of her head. "In long pantries, those cereal boxes will absorb lights."
BEDROOMS
[image id="33650" title="Bedroom lighting" linkto="file" ] Pendant lights by the bed leave side tables open for books and other items.
Homeowners are installing wall pendents over bedside tables rather than using traditional lamps with large shades.
"It leaves that table open where you can put books and other items," Idom said.
If opting for pendants, Idom advises people to consider one important question: How tall is your bed?
Lights should be placed where they are easy to reach. She also suggests purchasing lights with dimmer switches to control the consistency of the lighting.
Color is important, too.
"Warm colors help you settle down," she said.
BATHROOMS
[image id="33651" title="Bathroom lighting" linkto="file" ] The proper bathroom vanity lighting can help with morning grooming routines.
The best lighting in a bathroom is cross lighting, Idom said.
"By your face, overhead lighting is good, too."
Adjustable vanity mirrors over the bathroom sink, dressing tables, or countertops help with makeup application and shaving.
For those middle-of-the-night trips to the bathroom, she suggests a toilet light to avoid turning on the main lights in the bathroom.
"It's nice," she said. "It won't wake you up. Put a sensor on it or leave it on all night."
jfierro@thepicayune.com