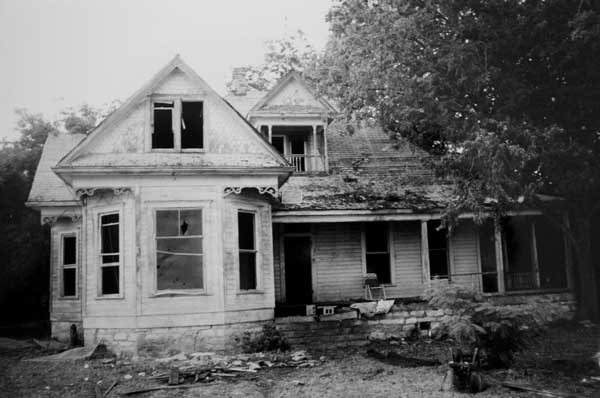 The Highland Lakes is home to centuries-old buildings full of strange energies and archives of gunfights and tall tales of the Old West. With such history comes the mystery of the paranormal: sights, sounds — and even smells — that can't be explained.
Experience these ghostly tales with a haunted sightseeing trip across the Highland Lakes.
The following stories are based off oral reports and tales passed down for generations. Interviews with locals prove there might be more to the old jail in Llano; that outlaws Bonnie and Clyde play a part in mysterious happenings at a railroad hotel; and that you should never stop for hitchhikers on U.S. 281 south of Johnson City.
1. 'Texas Chainsaw Massacre' in Kingsland
[image id="20811" title="Grand Central Cafe" linkto="file" width="100%" ]
When life hands you lemons, make Leatherface Lemonade. Sit down for a meal at Grand Central Cafe in Kingsland, a charming farmhouse-turned-restaurant that in a past life was the set for the 1973 horror film "Texas Chainsaw Massacre."
The house wasn't built in Kingsland but in Round Rock in 1909. It was moved to Kingsland in 1998 after being purchased by the Antlers inn, 25 years after the movie was made. Of course, the purely fictional "Texas Chainsaw Massacre" was only a movie, but the house may still be haunted.
The current owners and staff have reported paranormal activity — strange footsteps, crackling radio stations, disturbances in the kitchen and doors left ajar. They say it's caused by a happy spirit named "Julia."
Check it out yourself. We recommend the pancakes, which are as big as the plate. Grand Central Cafe is located at 1010 King Court off RR 1431 in Kingsland.
2. Haunted highway in Johnson City
[image id="16435" linkto="file" width="100%" ]
If you see a tall man hitchhiking along U.S. 281 at night between Johnson City and Blanco, don't stop for him. It could be the lean and mean ghost of Al Lackey. He wears a red bandanna around his neck — blood red and soaked through from when he slit his own throat after going on a murderous rampage in 1885.
Gossip travelled fast in Johnson City back then, and there were particularly treacherous rumors about an incestuous relationship between Lackey and his daughter. Seeking vengeance, Lackey hunted down and murdered six people, mostly his own relatives, including the daughter in question.
Lackey slit his own throat — not deep enough to kill — perhaps in an attempt to cover up his crimes and make himself look like a victim. But his wife and nephew were able to escape his blood thirst and alerted the authorities, and he was caught and arrested. The sheriff didn't buy his claims of self-defense and locked him up. When locals in Johnson City heard of the crime, a mob of more than 50 people overtook the Blanco County Jail where Lackey was awaiting trail. They hanged him on an old oak tree. His last words reportedly were, "Six are still living whom I intended to kill."
For the full story of Al Lackey's murderous rampage, click here.
3. Red Top Jail
[image id="20793" title="Red Top Jail" linkto="file" width="100%" ]
The historic, Victorian-style Red Top Jail in Llano has its fair share of ghost stories.
The jail, built in 1895, has been undergoing renovations with help from the Friends of the Llano Red Top Jail, an organization of volunteers committed to restoring the facility back to its former condition. Workers have reported many strange occurrences such as cell doors slamming shut, marbles being thrown from nowhere and mysterious noises.
"The workers were knocking down plaster walls, so dust was being blown up everywhere. They heard coughing up in the gallows. They went up, and nobody was there," said Kim Webb, a volunteer with the Friends group. "The workers started playing the radio real loud to drown out the noises, but a few walked off the job. Full-grown men!"
Webb recalled checking up on the jail one day. But her experience wasn't malicious; it was playful.
"I was putting my keys in, and I could hear little girls laughing and running down the hallway. It wasn't a spooky feeling. It was kind of neat."
When the Red Top was in operation, the families of the jailers had living quarters downstairs.
"Workers and visitors have reported that they smelled chocolate chip cookies baking," said Martha Rowlett, president of the Friends group.
Back when the building was in full operation — it closed in 1982 — the jailers surely cooked for their families and the prisoners. Whatever haunts this place must have a sweet tooth.
The Red Top Jail is located at 400 Oatman St. in Llano. To set up a tour, call the Llano Visitor Center at (325) 247-5354. The tours are currently free of charge, though donations are greatly appreciated.
4. Dabbs Railroad Hotel
[image id="20812" title="Dabbs Hotel in Llano" linkto="file" width="100%" ]
Anything old is bound to have a haunt or two about it. The Dabbs Railroad Hotel, a 1907 bed-and-breakfast near the railroad depot in Llano, has several.
The Dabbs claims to be an infamous hideout of infamous robbers and murderers Bonnie and Clyde in the early 1930s. This is entirely possible; the outlaws grew up in Texas and committed an array of heinous crimes across the state. The hotel, situated on the North Western Railway line, was a common stop for passengers heading west out of the Texas Hill Country.
Kenny Hare of the Llano Historical Ghost Society has headed up investigations in the Dabbs Hotel. He picked up strange voices using what he calls a "ghost box," a high-tech AM/FM radio scanner hacked to run more than 10 channels a second.
"You ask a question, you'll get an answer. I can't tell you scientifically where these voices are coming from, but it's an absolute fact that it happens," he said.
Using this equipment, Hare asked if Bonnie and Clyde had ever stayed at the Dabbs. The spine-chilling response? "Clyde sure did."
That wasn't the only anomaly that Hare experienced.
"When we were doing the investigation, we heard footsteps in the attic," he said. "Every time I went up the ladder to look in the attic, the footsteps would stop. I would climb back down, and it would start again. It was kind of like a game."
The Dabbs Railroad Hotel is located at 112 E. Burnet St. in Llano. Call (325) 247-2200 to book a night and lead your own ghost hunt.
5. Mysterious boot prints in Old Oak Square
[image id="20813" title="Old Oak Square ghost prints" linkto="file" width="100%" ]
Old Oak Square in Marble Falls is a cute spot on Main Street outfitted with local shops, boutiques, a shady courtyard and a restaurant, home to a mysterious set of boot prints that lead straight into a wall.
In 2003, the square was renovated. Fresh concrete was poured and smoothed out. Then boot prints appeared, digging into the wet concrete but with no culprit to be found. The concrete was re-poured and smoothed out three more times, but the prints kept reappearing.
Resident businesses blame the boot prints — and other strange occurrences such as haywire electronics and flying picture frames — on a local ghost named "Stretch." Stretch is rumored to have been hanged from the old oak tree in the center of the square. The tree has been coined "the hanging tree" despite a lack of historical records of any hangings in Marble Falls.
The businesses that occupy Old Oak Square have changed over the past century. For almost 60 years, the WF & JF Barnes lumber company set up shop. There was a bank and a hardware store. Also noteworthy was a coffin retailer, complete with a hearse and an embalming room.
Old Oak Square is located at 305 Main St. in Marble Falls. Find the footprints inside the dining room of Bill's Burgers, Wings & Things.
Reporters Daniel Clifton and Jared Fields contributed to this story.