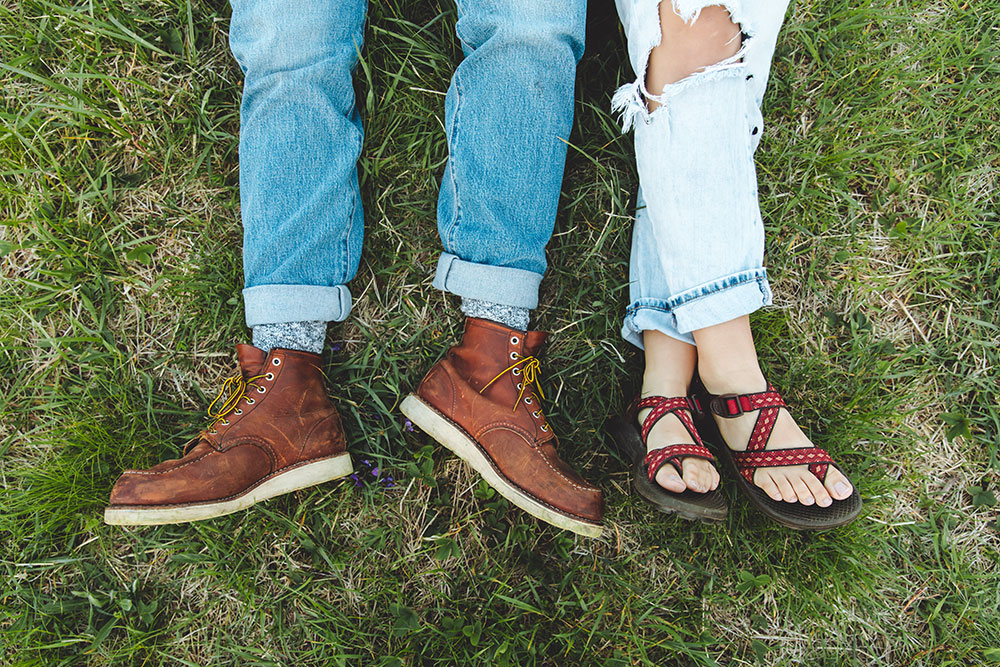 Whether it's a romantic picnic for two, a family lunch in the sun, or a solo adventure, you can pack a picnic and head to several vibrant green parks with beautiful views. So grab a thick blanket, cheese, drinks, and charcuterie for an al fresco meal in the Highland Lakes.
[image id="23419"] Relax at the shady and green Johnson Park in Marble Falls. Staff photo by JoAnna Kopp
1. Johnson Park
The historic Johnson Park, situated along Backbone Creek and shaded by live oak and pecan trees, is a beautiful place to connect with nature in Marble Falls. There are plenty of tables and pavilions throughout the park, so you can have a picnic of any size here.
Johnson Park is located at 230 S. Ave. J in Marble Falls.
[image id="19106" title="Pace Bend Park"] There are picnic spots and campsites situated throughout Pace Bend Park with cliffside views of Lake Travis. Staff photo by JoAnna Kopp
2. Pace Bend Park
Situated in Spicewood, Pace Bend Park juts out like a peninsula on Lake Travis with rocky cliffs and 9 miles of shoreline. Set up near the lake and spend the day swimming and enjoying the sun or cliffside for a great vantage point of the hills.
There is a $10 per car entrance fee to Pace Bend, so we recommend carpooling.
Pace Bend Park is located at 2011 Pace Bend Road North in Spicewood.
[image id="19333" title="Krause Springs in Spicewood"] Enjoy a picnic near the natural swimming hole and waterfall at Krause Springs. Staff photo by JoAnna Kopp
3. Krause Springs
Plan a picnic enveloped in nature at Krause Springs. Lay your picnic blanket in the shade of ages-old oak and cypress trees that create a canopy overhead. Sounds of a trickling waterfall set the mood. Located in Spicewood, Krause Springs is also a natural swimming hole with springs that stay at a crisp 68 degrees year-round. There are also grills and picnic tables throughout the park.
Open daily from 9 a.m.-9 p.m., Krause Springs charges a (cash-only) entrance fee of $7 per adults and $5 for ages 4-11. Admission is free for children 3 and younger.
Krause Springs is located at 404 Krause Spring Road in Spicewood.
[image id="19077" title="Blanco State Park"] Relax under a centuries-old oak tree and listen to the cascading waterfall below you. Photo by JoAnna Kopp
4. Blanco State Park
Picnic alongside the Blanco River with cascading waterfalls at Blanco State Park. Spanning a long stretch of the riverbank, there are plenty of private spots for you to set up and enjoy nature. There are also picnic tables and barbecue pits.
Admission to Blanco State Park is $4 for ages 13 and older and free for ages 12 and younger.
Blanco State Park is located at 101 Park Road 23 in Blanco.
[image id="18351" title="Kingsland Slab"] The Kingsland Slab is a great place to picnic and cool off in the Highland Lakes. Staff photo by JoAnna Kopp
5. The Kingsland Slab
A favorite swimming hole for locals, the Kingsland Slab is a great place to set up a picnic. Created by a huge outcropping of granite beneath the Llano River, the Kingsland Slab has plenty of places spread out and surrounded by natural swimming and wading holes. Pack in what you pack out — there are no facilities at the Slab, so keep it beautiful for everyone.
Drive RR 1431 west through Kingsland then turn west on FM 3404 and stay there for a couple of miles until reaching the Llano River.
For more spots that show off the beautiful and unique Texas Hill Country, check out our guides to hiking and swimming in the Highland Lakes.